Tibetan nomads use singing not only to demonstrate one's vocal ability and lyrical creativity, but also—and perhaps more importantly—as a form of heightened expressive art. Singing has an esteemed place in Tibetan nomadic society; one's talent to sing and one's capacity to perform songs typically command respect in these communities. 
Songs are omnipresent in Tibetan nomadic life. Because they often occur on merry occasions, Tibetan songs typically communicate appreciation, joy, and hope, rather than sadness or personal drama. Songs are meant to lift communal spirits and express and embody the community's appreciation and hope for life. When one goes to a party or gathering, one should expect to be called upon to provide a song for the party; having a song or two in your figurative pocket can help you greatly.
There is a well-known proverb, "A Tibetan knows how to dance as soon as she walks, and she knows how to sing as soon as she learns to speak." This saying tends to exaggerate the omnipresence of song in Tibetan society, but it does convey a recognition for the importance of singing within nomadic culture.
Video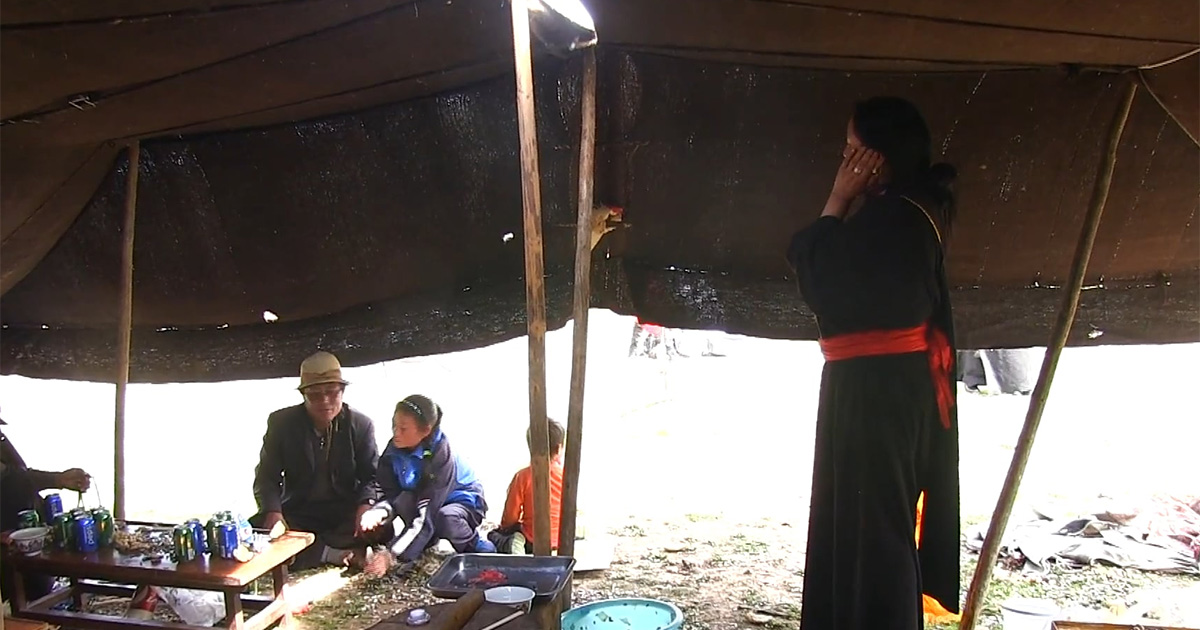 Singing is highly improvised and fluid. There are songs of praise and appreciation—for the land, respected spiritual leaders and teachers, parents and elders, and all sentient beings as part of a cyclic and interdependent existence. There are also songs of celebration—for weddings, New Year's, harvests, picnics, housewarmings, and other sacred occasions. There are courting songs, religious ceremonial songs, and question-and-answer duet songs that require instantaneous improvisation and creativity. As a result of the communal context of these songs, they often speak to and reflect collective attitudes toward life and cultural understandings, rather than expressing one's personal melancholy or individual experiences.
Singing is not limited to the realms of nomadic lifeways. It also plays an important role in religious performance as a form of storytelling. For instance, one of the more common and dramatic performances at monasteries is the recounting of enlightened yogi Milarepa's life story (Milarepa's rNamTHar), which is almost exclusively achieved through songs (mGur). Songs delight not just the sphere of secular life but also the realms of the sacred.
In nomadic areas, instruments such as flutes, Tibetan dragon-head mandolins or other stringed instruments, drums, and, more recently, guitars are used to complement vocals. In the monastic practices, one might hear drums, cymbals, flutes, horns, and bells used to accompany the singing of important religious texts or stories.