In Kütahya, a western Turkish city known for its ceramic ware or çini, tiles and plates feature a variety of design motifs, both classical and contemporary. Among them, calligraphic, geometric, and vegetal themes emerge as the most common. The reason why says as much about spirituality as it does skillful craftsmanship.
Calligraphy remains the most venerated form of ornamentation in Kütahya, given its widespread use in Qur'anic manuscripts. Among these, "Bismillah" is the most commonly used verse in Kütahya pottery and translates to "In the name of God, the Compassionate, the Merciful."
Ahmet Şahin, a noted potter who worked to revive the city's ceramic tradition, is well known for his Bismillah designs, featured in the city's Hisarbey Camii and Dönenler Camii mosques. Nurten Şahin, one of few female potters in the male-dominated trade, is similarly skilled in rendering Bismillah designs, with her tiles adorning mosque interiors in Malatya, Turkey, among other cities.
In addition to Qur'anic verse, Kütahya potters heavily utilize geometric designs. These aniconic patterns commonly include star-like motifs and interlaced polygons in symmetrical arrangements. "Their austere beauty and infinite variations reflect the all-encompassing will of God effecting universal order, harmony, and balance," Rija Qureshi wrote in her Modern Islamic Ceramics online exhibition.
İbrahim Erdeyer, another skilled craftsman whose work is well known throughout Istanbul and Cappadocia, prefers such robust geometric motifs that take after fifteenth century Busra ceramics.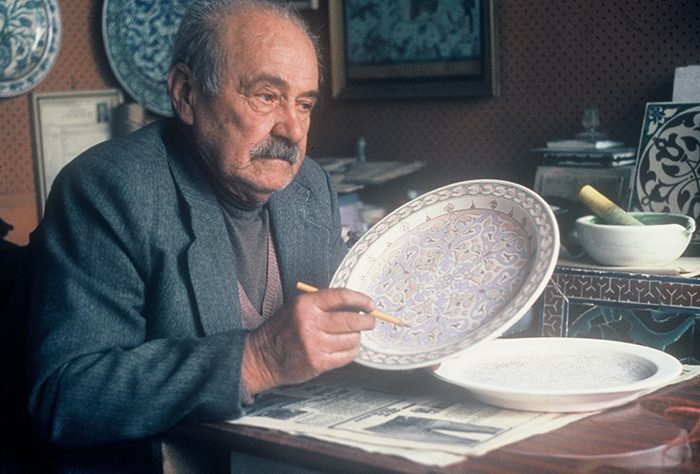 Vegetal motifs, another common feature in Kütahya pottery, suggest a similar higher meaning, in this case, of the precariousness of life. Traditionally, vegetal designs were associated with the gardens of paradise, but floral imagery, replete with myriad blossoms, reflect the diversity of humankind.
For Mehmet Gürsoy, a potter in Kütahya who devotes eighteen hours to the conception and design of each piece, energetic florals symbolize the idiosyncrasies of human existence. Gürsoy, who also broadened the color scheme of Kütahya pottery to include new greens and corals, was hitting upon an underlying truth of the ceramic ware: the balance and harmony imbued in these works.
A survey of design motifs in Kütahya pottery underscores how ceramic ware in particular, and craft in general, operates on multiple levels, one aesthetic and one spiritual. Through calligraphic, geometric, and vegetal designs, Kütahya potters elevate ceramic ware to a high art, one worthy of display in places of worship and private homes alike.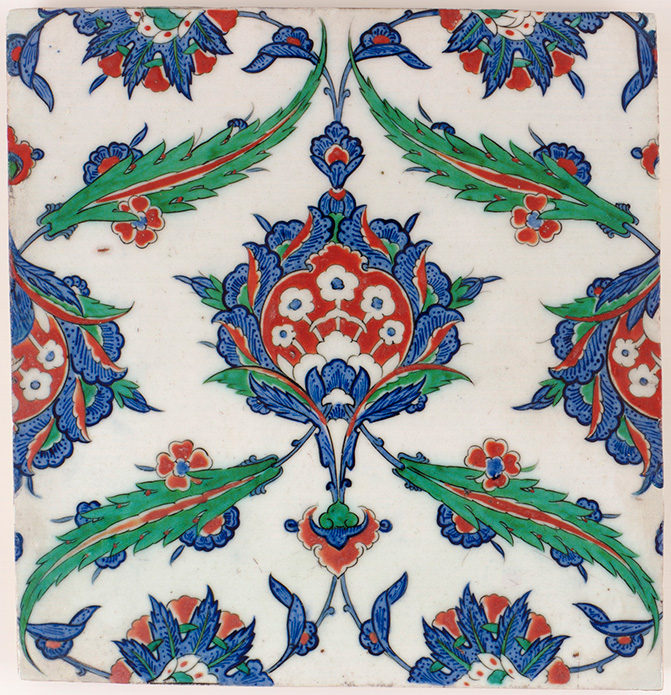 This piece was written in association with the Smithsonian Arthur M. Sackler Gallery exhibition The Art of the Qur'an: Treasures from the Museum of Turkish and Islamic Arts, on view through February 20, 2017.