"If humanity survives another century, it will be because of music."
What Pete Seeger captured in a single line is the profound consolation that only music brings. As an art form, music has long captured our collective curiosities, but what underlies its longstanding appeal? It's a question we posed in our February #50YearsofFolk Twitter chat, the second in a monthly series celebrating the 50th anniversary of the Smithsonian Folklife Festival in 2017. What emerged from the discussion was an examination of music as a reflection of social and historical undercurrents.
For music journalist and 2016 Folklife Festival presenter Oliver Wang, music's singular power is inherently social. As he put it, concerts and festivals reveal much about "a shared desire to see music and to hear music together," even in an age where most music can be conveniently accessed electronically. That interconnectedness extends to Veracruz, Mexico, where community members gather to sing and dance the fandango, a genre rooted in convivencia, or coexistence. The fandango's appeal, as Smithsonian Folkways artist Martha González explained at last year's Festival, owes much to its emphasis on "personal relationships, genuine human connections, and transnational activism."
Equally important is music's role in capturing the spirit of the times, such as the peace songs of the 1960s. Bob Dylan's "The Times They Are A-Changin'" is a prime example. "That song harnesses the emotions and feelings of an era in a way that just words couldn't," the Newseum added to this month's chat, reflecting on Bob Dylan's handwritten lyrics. What this and similar songs captured elegantly was a transformative moment in time and, in so doing, awakened a younger generation to music's sweeping influence.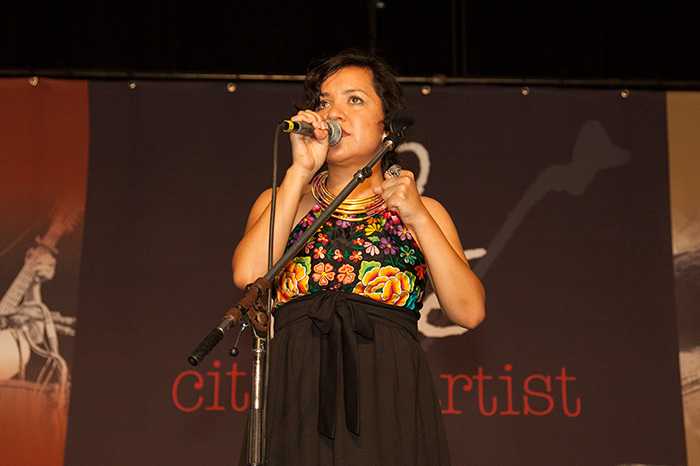 For all its historical underpinnings, music is also fundamentally fluid. As the United States Holocaust Memorial Museum explained at this month's chat, much of their music collection consists of new lyrics set to pre-existing melodies. One Kovno ghetto song, for instance, tells the tale of female forced-laborers at a meat packing plant who smuggled poultry parts in their underclothes. The song, as the museum explained, is set to a "hyperpatriotic" Soviet hymn, imbuing it with a "mock-epic" quality.
Music is similarly enlivened by cross-cultural exchange. As the 2017 Folklife Festival will highlight in the American Folk program, the NEA National Heritage Fellows bring that vitalizing power to bear. Flaco Jiménez and his accordion, for example, brought conjunto music that combines Mexican, Polish, German, and Czech elements from the Texas-Mexican border to the world. Rahim AlHaj channels traditional Iraqi and modern American influences in equal measure with his oud.
Music is a social, historical, and ever-shifting art form that translates the meaning of any single melody or set of lyrics. "My father, grandfather, great-grandfather, they all played the fiddle," Dewey Balfa, a Cajun fiddler and National Heritage Fellow, recalled. "Through my music, I feel they are still alive."
What music offers us, then, is the opportunity to connect with others, with moments in time, and with worlds beyond our own. If humanity survives another century, we probably will have a song or two to thank.
Read the full Twitter discussion on Storify.
Angelica Aboulhosn is the public affairs specialist at the Center for Folklife and Cultural Heritage.