Using the power of their video camera and insightful questions, last year two budding folklorists helped save an ancient craft tradition in India. Sruthika and Ashitha, at ages sixteen and seventeen, entered the Global Folklorist Challenge with a six-minute video about grass mat weaver P. Prabhavathi, the last person in her village of Killimangalan to carry on this tradition.
Their video not only won a prize in the 2015 Challenge, but it also gained local and regional media recognition. As Vinod Nambiar, who mentored the two students and leads the Viyali Folklore Project, said, "Some of the traditions are vanishing, and we need to do something strong to get those traditions back."
Thanks to Sruthika, Ashitha, and others, Prabhavathi is now president of a society of weavers in her village, encouraging others to get involved in the tradition. The positive impact of the challenge in Prabhavathi's community serves as inspiration for students everywhere to make a difference in their own communities.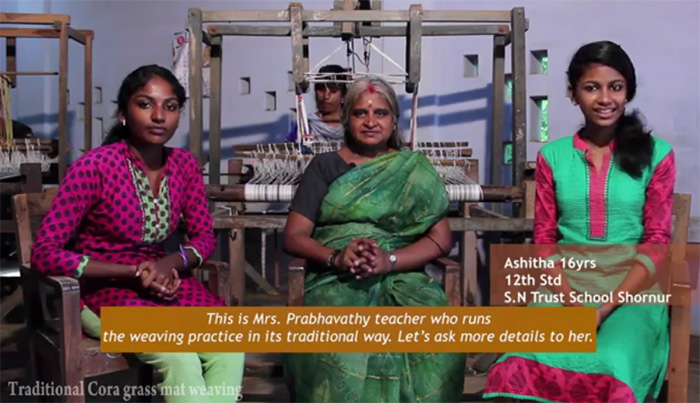 The Global Folklorist Challenge offers students around the world the opportunity to explore cultural traditions in their communities and neighborhoods, using the same process that professional folklorists use. Now in its third year, the challenge is sponsored by our education team at the Center for Folklife and Cultural Heritage and Cricket Media, a children's print magazine and online publisher.
Following the folklorist process, participants research a tradition, document their interview with a practitioner or expert, interpret the impact of the tradition, and present their discoveries through a slideshow, video, or podcast. These steps encourage the young folklorist to explore and analyze the tradition and culture. They can use the Folklorist Fieldwork Notebook, a free resource that will guide students in every step of the folklorist process.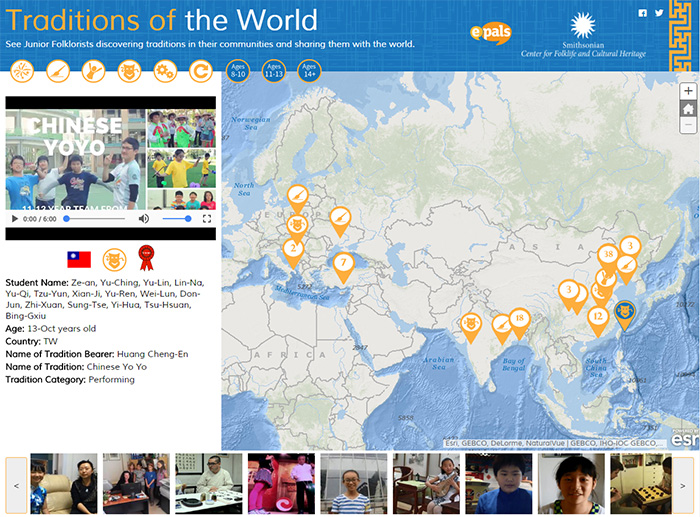 Students from the United States, Canada, India, Ukraine, Turkey, Italy, China, and Taiwan participated in the first two challenges. Both years, six winning entries were selected along with nine honorable mentions. All past entries can be seen on an interactive world map. Entries are due November 30, and then they are judged by experts from the Smithsonian and Cricket Media. All winners will be finalists for the Folklorist Challenge Choice Award, allowing the public to vote for their favorite entry online. Last year, people cast 884,823 votes to determine the Choice Award winner.
Please join us by encouraging the young people in your life to enter the challenge. Like Sruthika and Ashitha, they could win a prize and, more importantly, help promote awareness and respect for a tradition in their community. The more entries received from different parts of the world, the richer the story becomes of how important traditional knowledge and skill is all around the globe.
Hannah Sharp is a junior at Brigham Young University studying sociocultural anthropology. Tyler Osborne is a junior at Ohio State University studying history and history of art. They are both education interns at the Center for Folklife and Cultural Heritage.