With the summer term fast approaching, new interns at the Center for Folklife and Cultural Heritage may wonder how their experience here will help prepare them for future work experiences. Recently, I reached out to a few of my former interns to find out what they are doing now and how their time at the Center influenced their current work.
These four former interns all work broadly in the field of cultural education, but in very different capacities:
Julia Aguilar (summer 2013) works with the Harmony Project, a nonprofit music organization that provides music lessons throughout the Los Angeles area.
Mary Ellen Dingley (summer 2012) is working in policy research and writes for an international education organization.
Hannah McConnell Lewis (2010-11) is a team member at the not-for-profit Educational Justice, which mentors low-income students to prepare them for college.
Laura Service (summer 2008) works as a museum educator at London Transport Museum on a project called Enjoyment to Employment.
Each of these capable young women report below on their work and offer advice for current and future interns.
Julia Aguilar Jerez
From my experiences at the Center and elsewhere, I have learned that people are happy to share their culture with you when you approach them in a respectful and engaging manner. I was able to take what I learned working in the family area of the China program of the 2014 Smithsonian Folklife Festival, which included having open discussions and working collaboratively, and apply it in different ways of learning.
Last year, I was a language and culture assistant in Mallorca, Spain. My role was to assist English language teachers in a primary school and promote multilingualism and knowledge of other cultures. Even though the majority of students were from Mallorca, we also had students from Morocco and Peru. I encouraged the students to talk about themselves through what holidays they celebrate, their favorite food, the music they listen to, and their hobbies—conversations inspired by the music, foodways, and craft presentations I heard at the Folklife Festival. They were excited to share their experiences with me and the rest of their class.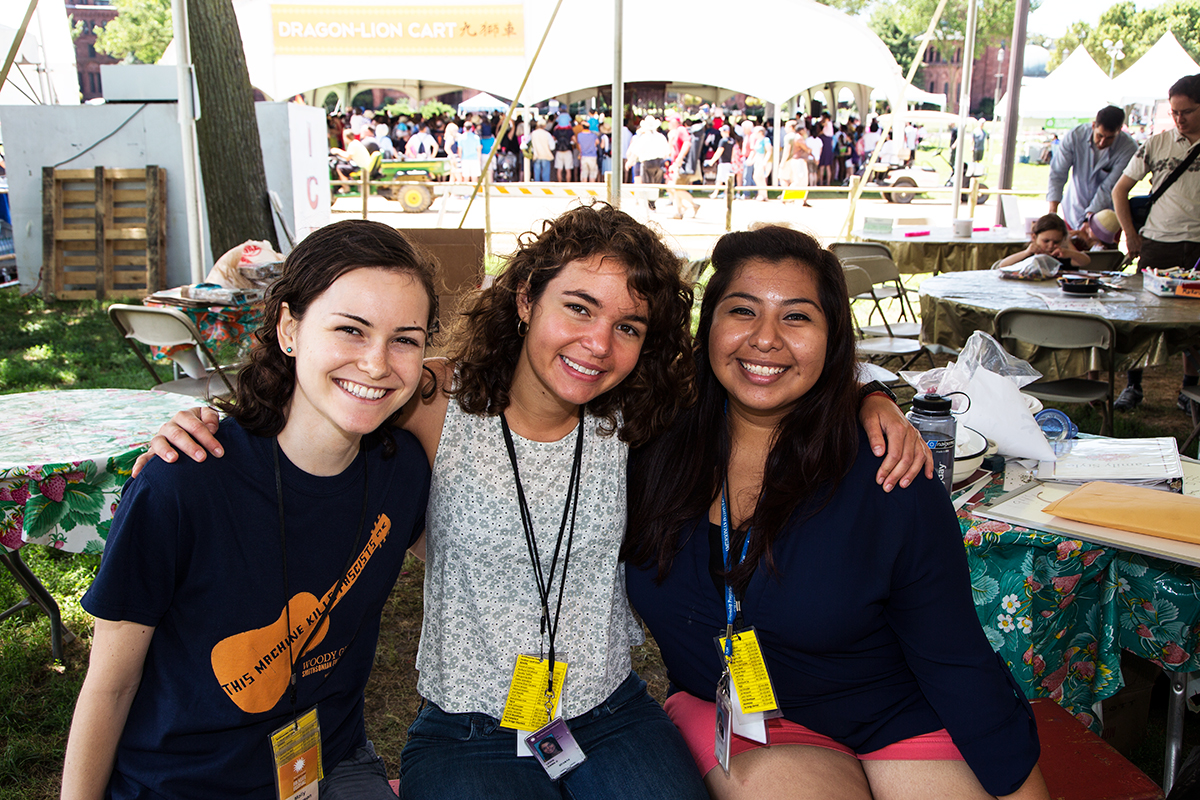 Currently, I'm a program manager at Harmony Project, a nonprofit music organization that provides music lessons throughout the Los Angeles area. In addition to Western classical music, we also offer mariachi ensembles, taught by local community artists. Students learn the different occasions when the songs are performed and the history behind the songs. This adaptive approach to music education benefits the students since they are able to learn to play music in several different ways.
My advice for interns is to be open-minded and adaptable. If you are seeking a career in cultural education, remember that the teaching styles you adopt will not only benefit you but also the variety of learners in a classroom. From teaching abroad to facilitating music ensembles, it is important to remember that all cultures are valuable and that cultural education is necessary to include in our curriculum.
Mary Ellen Dingley
I loved seeing the Folklife Festival come to life. My tasks included everything from sourcing garden plants to keeping participants in the Campus and Community program hydrated through some of the hottest weather the event had ever witnessed!
Immediately after my internship, I taught English in Eastern Europe and then worked for a nonprofit in the Dominican Republic. In both places I worked to bridge cultural divides either in the classroom or between volunteers and locals. I currently work in policy research, but I also write for an international education organization about everything from culture shock to politics. I want everyone to recognize that there is a huge, diverse world out there and they are invited to explore it.
For current interns, I would advise trying your hand at some freelance writing for cultural education publications, like Matador Network and GoAbroad.com. It's a great way to build a portfolio and make connections. My writing has helped me stay connected to cultural education even while my day job has moved in a different direction.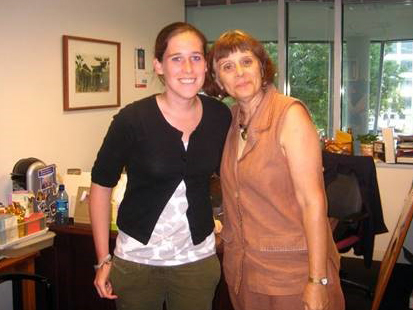 Hannah McConnell Lewis
I graduated from college with a strong desire to work in education but was unsure about my next steps. Hoping to learn more about museum education, I started my internship in August 2010 and spent the next year at the Center doing research, learning about cultural education, and taking advantage of the wealth of knowledge that surrounded me. At the end of that year, I decided to pursue a master's degree in teaching.
Throughout my studies, I worked in low-income schools, desperately trying to help high school students who were many grade levels behind. At the same time, I worked as a private instructor at a tutoring company, where I mostly tutored high-income students who attended elite private schools and were already doing well. I found the disparity to be so noisome that I began searching for ways to do my small part to address the problem.
Partnering with the tutoring company's owner and five other idealistic tutors, we established Educational Justice. We select the most accomplished high school students in the city, train them to become tutors, and pair each one with a low-income middle school student for one-on-one tutoring every week for up to four years. Last year, 88 students took part in the city-wide pilot program. So far this year, over 250 students have already participated.
I regularly apply my experiences from the Center to help design cross-cultural lesson plans and to teach openness and sensitivity to students who typically work with peers coming from backgrounds very different from their own.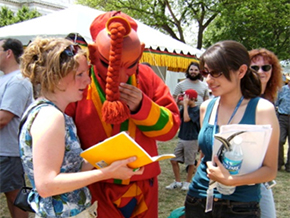 Laura Service
I interned at the Folklife Festival in 2008 when Bhutan, Texas, and NASA came together with visitors from across America and the world. Visitors I met initially found differences between themselves and the cultural programs (Bhutan), but then found similarities, awe, and amazement through conversation. Never have I forgotten the conversation between two Festival participants: a Bhutanese monk and a NASA astronaut about what the stars mean to them.
On returning to the UK, I completed my master's degree in museums and galleries in education at the Institute of Education in London. I worked freelance for six years in about seven museums, galleries, and gardens, teaching audiences from schools. For the last two year, I have worked at the London Transport Museum on a project called Enjoyment to Employment, working with industry partners to turn childhood enthusiasm into adult achievement.
My advice for new interns is to meet and talk with anyone you think is interesting. Learn from your audiences. The Folklife Festival presents you with such a diverse snapshot of America—talk to them. Be aware of your unconscious bias. Be reflective and experimental. Collaborate across disciplines. Make time for conversation. Get involved!
*****
We would love to hear from other former interns about their current positions and how their internships helped prepare them. Join the conversation by posting a comment below.
Betty Belanus is an education specialist and curator at the Center for Folklife and Cultural Heritage. Her work has been enriched by the amazing interns she has had over the years, and she looks forward to supervising many more.