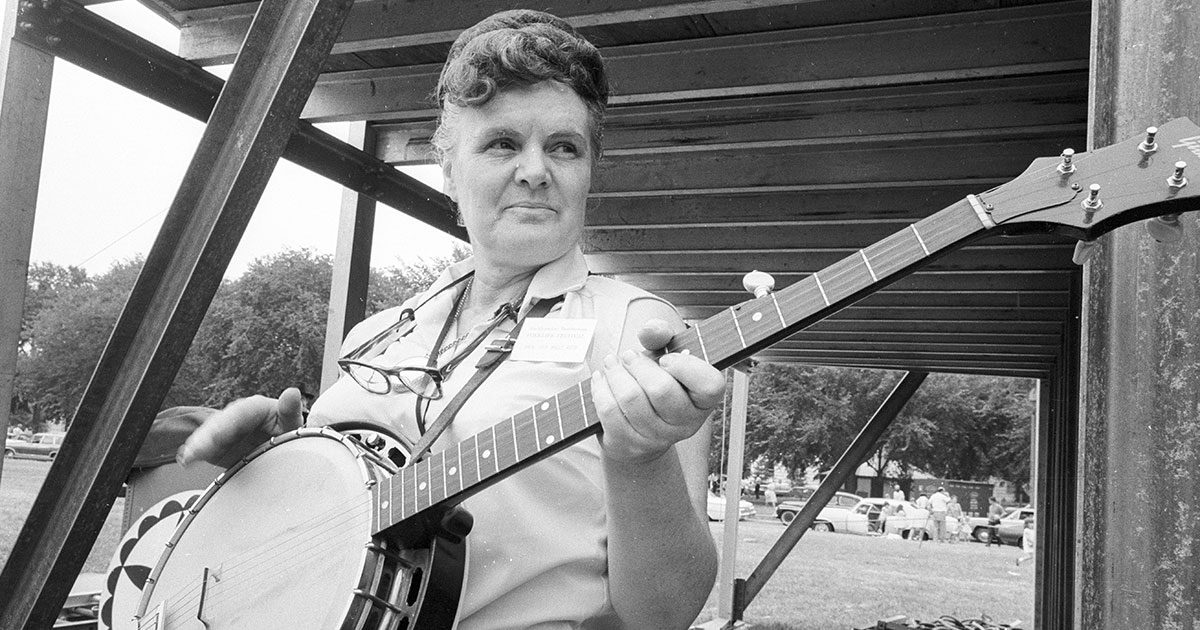 virtuosity
vir·tu·os·i·ty \ vər-chü-ˈä-sə-tē \
noun
great skill in music or another artistic pursuit
synonyms: skill, skillfulness, mastery, expertise, prowess, proficiency, ability, aptitude; excellence, brilliance, talent, genius, artistry, flair, panache, finesse, wizardry; informal: know-how, chops
In honor of Women's History Month, this playlist presents songs from the Smithsonian Folkways catalog featuring recipients of the National Endowment for the Arts' National Heritage Fellowship. This award, the country's highest distinction in folk and traditional arts, honors lifetime achievement and community dedication. The award also recognizes the varied nature of artistic virtuosity.
The recordings here reflect the generous, creative endeavors of women who supported the cultural vitality of their communities as teachers, documentarians, and activists—and who contributed compelling expressions of female experiences to this country's musical landscape. But foremost, this playlist emphasizes these artists' virtuosity. It highlights their prowess as musicians and composers, their leadership and influence, and their prodigious knowledge and repertoire.
1. Gaslight Blues
By Elizabeth Cotten
From Elizabeth Cotten, Volume 3: When I'm Gone
Elizabeth "Libba" Cotten (1895–1987) titled this composition for the Gaslight Cafe, a coffee house in New York's Greenwich Village, where she had played a series of performances. A septuagenarian when she recorded this track in 1970, she demonstrates her distinct dexterity and the flair of her unique left-handed technique. She was a self-taught musical prodigy and a seminal figure for artists of the folk music revival in the United States. She wrote her best-known song "Freight Train" when she was just eleven years old, and it has been covered by the likes of Taj Mahal, Jerry Garcia, and Peter, Paul, and Mary. Cotten received the NEA National Heritage Fellowship in 1984 and a GRAMMY in 1985.
2. One Dime Blues
By Etta Baker
From Blues Routes: Heroes and Tricksters: Blues and Jazz Work Songs and Street Music
Best known as a guitar player and admired for her fluid fingerpicking technique, Etta Baker (1913–2006) was a multi-instrumentalist who also learned banjo and violin from her extremely musical family. Growing up in Caldwell County, North Carolina, she played a repertoire and in a style reflecting varied influences, including the historical mixing of blues and regional old-time country music. This version of "One Dime Blues" was recorded at a 1992 performance when she was in her late seventies—not long after she had given up her textile mill job to become a professional musician. Baker continued to tour into her eighties and received the NEA National Heritage Fellowship in 1991.
3. Ola Belle's Blues
By Ola Belle Reed
From All In One Evening
Ola Belle Reed (1916–2002) trail-blazed a career as a bluegrass singer, songwriter, and banjo player. One of thirteen children, she grew up around music, learning her style of clawhammer banjo from an uncle and performing publicly with her brother and other musicians starting in the 1930s. Through migration, the lean times of the Depression, and a number of occupations (as a housekeeper, in the family general store), Reed stayed focused on her love of music and performing. She is recognized for her prolific songwriting, and several of her compositions are frequently covered bluegrass standards. In this instrumental track, her smooth, sure banjo playing is the focus, accented by Kevin Roth, one of her protégés, on dulcimer. Reed received the NEA National Heritage Fellowship in 1986.
4. Black Lung
By Hazel Dickens
From Classic Labor Songs
Hazel Dickens (1925–2011), another pioneering bluegrass musician, carved out a prominent place of respect for herself in a scene dominated by male artists. A lifelong activist, she gave her voice in support of social justice movements, penning and performing songs expressing the trials of poor working people and women. In this track, singing a cappella, she belts out a jarring and poignant indictment of the coal industry and its toll on workers. Introducing the song for a performance, she once explained, "In a country like this, people shouldn't have to live and be buried as poor as when they came into the world…. This is a song that I wrote for my brother so that he would have some kind of a voice in this world." Dickens received the NEA National Heritage Fellowship in 2001.
5. The Unquiet Grave
By Jean Ritchie
From Jean Ritchie: Ballads from her Appalachian Family Tradition
Jean Ritchie (1922–2015) was a singer, songwriter, musician, and folklorist. From her extended family, she learned some 300 songs—a vast repertoire of English and Scottish ballads passed down for generations in their eastern Kentucky community. In the 1950s, she went to Britain and Ireland, tracing the lineage of these songs and documenting ballad singers. A widely recognized and respected performing artist, she provided inspiration and guidance for the American folk music revival. In this song, taught by her father's cousin, she recounts in her clear-as-a-bell voice a graveside exchange between a man and his fallen love. In 2002, Ritchie was awarded the NEA Bess Lomax Hawes National Heritage Fellowship, which specifically recognizes advocacy on behalf of traditional artists.
6. Ezekial in the Valley
By Janie Hunter
From Been in the Storm So Long: A Collection of Spirituals, Folk Tales and Children's Games from Johns Island, SC
Janie Hunter (1918–c. 1991) was the matriarch of a family instrumental in sustaining the distinctive musical traditions of the Georgia Sea Islands. A queen of all trades, she was the bearer of a wide range of local knowledge and customs—from quilting and broom making to folk medicine and the narrative arts of song and storytelling. In this recording, Hunter leads the Moving Star Hall Singers, all lifelong residents of the islands, in an example of the religious songs and singing styles particular to the region. The song refers to an Old Testament passage in which the prophet Ezekial is instructed by God to speak to a valley of bones. Hunter received the NEA National Heritage Fellowship in 1984.
7. Prayer Chants
By Nalani Kanakaʻole and Pualani Kanakaʻole Kanahele with Hokulani Kaikana and Oilipua Kaikana
From Musics of Hawaiʻi: Anthology of Hawaiian Music - Special Festival Edition
Nalani Kanakaʻole (b. 1946) and Pualani Kanakaʻole Kanahele (b. 1937) represent a family lineage of kumu hulas, hula masters, from the Big Island of Hawaiʻi. Kumus bear a deep repository of knowledge that includes not only fluency in movement and chant, but also expertise and skills related to costuming, instrument making, ecology, and cultural protocol. Dr. Pualani Kanakaʻole Kanahele has played a pioneering role in revitalizing Hawaiian practices and pedagogy and served as Director of Hawaiian Traditional Knowledge Research at Hawaiʻi Community College. Nalani Kanakaʻole continues as kumu of Hālau 'o Kekuhi, the school founded by their mother, which she co-directs. This track presents two examples of oli, or "prayer chants," which are used on different occasions to invoke a response from the cosmos. The sisters were recipients of the NEA National Heritage Fellowship in 1993.
8. Biyo Yak (Come Once)
By Fatima Kuinova with Shashmaqam
From Music of the Bukharan Jewish Ensemble Shashmaqam
Fatima Kuinova (b. 1920) is a singer of astonishing vocal power. Born Fatima Cohen in Uzbekistan and raised in Tajikistan, she changed her surname to Kuinova due to anti-Semitic persecution in the Soviet republics. Her father was a cantor in the Bukharan Jewish tradition and her first music instructor. In her twenties, she began training in shashmaqam, a regional form related to Persian, Ottoman, and Arabic court music. Kuinova performed in Central Asia and Europe, working with both Muslim and Jewish musicians, before immigrating to New York in the 1980s. She became prominent in the Bukharan Jewish music communities of Queens and Brooklyn, soon founding the ensemble Shashmaqam. In this Tajik "counting song," each verse entreats a lover's approach through plays on words involving numbers. Kuinova received the NEA National Heritage Fellowship in 1992.
9. Silverio Pérez
By Lydia Mendoza
From La Gloria de Texas
Along both sides of the U.S.-Mexico border, Lydia Mendoza (1916–2007) was revered with such titles as the "Lark of the Border," "Queen of Tejano," and "Songstress of the Poor." Born in Houston, Texas, she grew up in a musical family that began performing together in the late 1920s. Later, as a Latina female solo artist, she was a rarity for the times. With her clarion voice, a distinctive tuning on her twelve-string guitar, and dexterous technique, she was a powerful musician—producing a lush, big sound when she performed. Here, Mendoza interprets a song by composer Agustín Lara about a beloved Mexican torero who began his career after his brother was killed in a bullfight. Mendoza was among the first group of artists awarded the NEA National Heritage Fellowship in 1982.
10. The Wilderness
By Ella Jenkins with Brother John Sellers, Joseph Brewer, and Guy Gilbert
From A Long Time to Freedom
Ella Jenkins (b. 1924) is the most popular-selling artist on Smithsonian Folkways. With her message of respect across cultures, she is a prolific and groundbreaking artist who has dedicated her career to creating music for and with young children. Since the release of her first album on the original Folkways Records label in 1957, she has recorded over thirty albums, hundreds of songs, and performed on all seven continents. The song featured here is somewhat uncharacteristic of Jenkin's body of work—produced for older listeners, not kids—although in the liner notes she describes "The Wilderness" as a song that has been a favorite of hers for a long time. This track is from an album dedicated to Dr. Martin Luther King, Jr., that presents songs of the African American struggle for freedom and equal rights. Jenkins received the NEA National Heritage Fellowship in 2017.