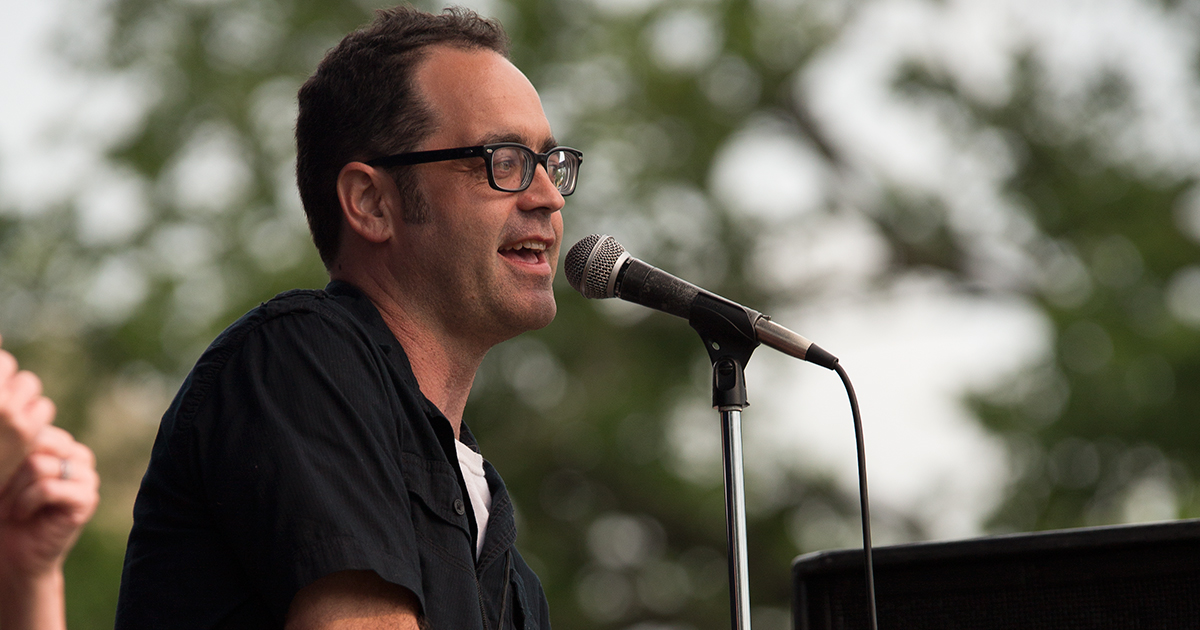 The first Folkways record I remember holding in my hands was Pete Seeger and Sonny Terry at Carnegie Hall (1958). I was a high school kid rummaging through my stepfather's record collection when I came across it. I was also an aspiring rock musician, and most of my music listening up until that point involved stuff that had been multi-tracked in recording studios. But the Folkways stuff sounded unmediated by producers—the feel of these recordings was much closer to what I experienced when I was actually making live music with my friends.
Life, like music, is inherently interruptible, and what I heard on Folkways—while masterful and beautiful—sounded like someone might walk in the room at any moment and break up the fun like a well-intended parent.
These recordings created a sonic trail of breadcrumbs for me, a trail that eventually led to my working as an ethnomusicologist and folklorist. As the director of Folk & Traditional Arts at the National Endowment for the Arts, where my colleagues and I administer the National Heritage Fellowships, I find it significant that my first conscious encounter with the sounds of American folklife began with Sonny Terry, a recipient of the National Heritage Fellowship in its inaugural year of 1982.
What follows are a few of my favorite recordings by National Heritage Fellows on Smithsonian Folkways.
1. Lost John
By Sonny Terry
From The Folkways Years, 1944-1963
I was about twenty years old when I first heard this recording—a one-man soundscape that tells the tale of a fugitive on the run from bloodhounds—and I found it haunting and unlike anything I had ever heard before. It is one of my favorite pieces of recorded music, of any kind, and from any time period. The musician in me—the one who typically relies on at least a four-piece band and lyrics to tell a story—is astonished that Sonny Terry can do so much while traveling so lightly. You don't need roadies to carry harmonicas!
2. That Train That Carried My Girl from Town
By Doc Watson
From The Doc Watson Family
I recall seeing Doc Watson perform on a beautiful sunny day at an outdoor bluegrass festival in upstate New York while eating a basket of crawdads and fries. I believe it was some version of heaven. Like Sonny Terry's "Lost John," Doc Watson creates a musical soundscape to help this tale of loss and heartbreak. The song is attributed to West Virginian coal miner Frank Hutchison and was also a staple in Heritage Fellow Ola Belle Reed's repertoire.
3. I've Endured
By Ola Belle Reed
From My Epitaph
In a world full of braggarts, Ola Belle Reed stood out as a truth-teller. As a teenager, she rode from the North Carolina Blue Ridge to the Maryland-Pennsylvania border on the back of a flatbed truck with her ten siblings and all their earthly possessions. As the song tells, she endured the indignity of working as a servant in the homes of the wealthy along the Mason-Dixon Line, where she was ridiculed for her dream of becoming a singer on the radio. In achieving that dream with her brother, Alex, Ola Belle proved a powerful influence on country and bluegrass, fueling the careers of fellow Heritage Fellows Del McCoury (who recorded several of her original songs), Ralph Stanley, and Bill Monroe.
4. Muchachos Alegres
By Narcisco Martinez
From Chulas Fronteras & Del Mero Corazón
Narcisco Martinez's furious accordion playing earned him the nickname "El Huracon del Valle" (Hurricane of the Valley). In Les Blank and Heritage Fellow Chris Strachwitz's brilliant documentary, Chulas Fronteras (1979), Martinez performs this song in what is—in my opinion—one of the most affecting scenes in any documentary film about traditional music. A giant of conjunto music along the Texas-Mexican border, Martinez performs "Muchachos Alegres" in a bar, just feet from the men's room, while still in his work shirt from his day job as a zookeeper.
5. Taqsim Maqam Ajam
By Rahim AlHaj with Souhail Kaspar
From When the Soul Is Settled: Music of Iraq
I have had the privilege of meeting a number of Heritage Fellows who came to the United States as refugees: Chum Ngek, Sam Ouen Tes, Yary Livan, Bounxeung Synanononh, and Rahim Alhaj. What is always astonishing is the juxtaposition of a brutal personal journey with a gentle, generous, optimistic soul still capable of creating beautiful, nuanced, world-class art.
6. Vander Ich Mir Lustig (While I'm Happily Walking)
By The Brothers Nazaroff (with Michael Alpert)
From The Happy Prince
Yiddish language has contributed many colorful and useful words to the American vernacular: schmuck, tchotchke, shlep, schlock, shtick, spiel, schmooze, schmaltz, klutz, and chutzpah being a few of this goy's favorites. To my knowledge, the word "punk" is not Yiddish, but the Brothers Nazaroff's take on "Vander Ich Mir Lustig" has a decidedly punk vibe to it.
7. Rebel Girl
By Hazel Dickens
From Don't Mourn—Organize!: Songs of Labor Songwriter Joe Hill
I only saw Hazel Dickens in person once, at Creative Alliance in Baltimore, not long before she passed away. Though her voice was ragged from a cold and no longer at the peak of its powers, she was still incredibly feisty and used one of the classiest stage moves I had ever seen (subtly tucking a tissue into her sleeve mid-song). "Feisty" is a word I would use to describe both Hazel Dickens and Elizabeth Gurley Flynn, the feminist, activist, ACLU co-founder, and IWW leader who is the subject of Joe Hill's "Rebel Girl."
8. Rank Stranger
By The Stanley Brothers (Ralph Stanley)
From Back Roads to Cold Mountain
I met Ralph Stanley at the Thomas Point Beach Bluegrass Festival in 1997. That same day, I met John Hartford. What amazed me—aside from the music—was that these giants of bluegrass just walked among us mere mortals on the festival grounds. Unlike the parallel worlds of rock or country, there was seemingly no veil of mystique, and no effort to separate from the crowd. At the end of the day, as I walked down the dirt road away from the festival, a massive tour bus pulled up alongside me. The bus, with "Dr. Ralph Stanley" airbrushed on the side, seemed out of step with my earlier down-to-earth encounter. The door opened, and the driver's voice called out, "Which way to Route 1?" I said, "Turn left at the gate." The bus pulled forward and turned right, and the mystique of the tour bus was eliminated.
9. Hey Bartender, There's a Big Bug in My Beer
By Warner Williams and Eddie Pennington
From Warner Williams with Jay Summerour: Blues Highway
Warner Williams worked most of his life doing hard, manual labor for the city of Washington, D.C. Eddie Pennington is a Kentucky mortician. Both men are profoundly gifted Heritage Fellows—Warner as a songster and Piedmont bluesman, and Eddie as a virtuosic thumb-picking guitarist from the same musical heritage as Muhlenberg County, Kentucky, guitarists Merle Travis, Mose Raeger, Kennedy Jones, and Ike Everly (father of the Everly Brothers). This humorous song serves as a sonic counterpoint to Warner's typically stern appearance, which usually features a cowboy hat with a buck knife tucked in the hatband.
10. Before This Time Another Year
By Bessie Jones and the Georgia Sea Island Singers
From Friends of Old Time Music: The Folk Arrival 1961–1965
I love technology as much as anybody else, and as a musician I know how easy it is to succumb to the illusion that we need technology to make powerful, driving songs. Bessie Jones and the Georgia Sea Island Singers remind us here that powerful music really doesn't need technology at all in order to be transcendent.
11. Blue Yodel
By Del McCoury
From I Wonder Where You Are Tonight
The National Heritage Fellowships were started in 1982, a half-century after tuberculosis claimed the life of a thirty-six-year-old Mississippian named Jimmie Rodgers, who wrote the song "Blue Yodel." However, his songs found their way into the repertoires of many Heritage Fellows in both blues and bluegrass. The stamp of Rodgers's influence is particularly strong on Heritage Fellow Bill Monroe—an interesting connection, as Rodgers is often referred to as the "Father of Country Music," whereas Monroe is often called the "Father of Bluegrass," with the latter serving as a traditionalist counterpoint to the stylistically omnivorous category of country music. Both Monroe and Rodgers cited New Orleans jazz and early blues as influences.
Heritage Fellow Del McCoury spent time as one of Monroe's Blue Grass Boys before emerging as one of the genre's leading lights in the early 1970s, attracting a devoted and eclectic following among traditionalists and innovative musicians alike who have spread his influence across genres seemingly quite distant from bluegrass.
12. Money Musk
Bob McQuillen with Old New England
From Choose Your Partners: Contra Dance and Square Dance Music of New Hampshire
When I was a teenager in New Hampshire, my best friend's mom ventured into the world of forty-something dating by way of dragging us to contra dances at the University of New Hampshire. We would slink away to play air hockey. While I reveled in airborne tabletop glory at the time, in hindsight, I am horrified that I missed steeping myself in the sounds of Heritage Fellows like Bob McQuillen and Dudley Laufman. This, children, is a great example of "sometimes adults really do know what's best for you." Sorry, Mrs. Nolan.
13. Hot Rod
By Clifton Cheinier
From Louisiana Blues & Zydeco
If Booker T. & the MG's were a zydeco group, this is what most Stax records would have sounded like.
14. Pony Blues
By David "Honeyboy" Edwards
From Honeyboy Edwards: Mississippi Delta Bluesman
I met Delta bluesman Honeyboy Edwards in New Hampshire, when he was touring to support his wonderful autobiography, The World Don't Owe Me Nothing. He was kind and patient with my friends and me. Later, I saw him in concert at the Vic Theater in Chicago. He was not a spring chicken, and when he broke a string on the second song in front of all of those people, I got a little worried that he was going to lose the crowd. But Honeyboy was unfazed. He reached down, got a replacement, and changed his string mid-song without stopping. Open tunings help with that sort of thing, but so does being as cool as a cucumber.
15. Freight Train
By Elizabeth Cotten
From Freight Train and Other North Carolina Folk Songs and Tunes
It's my feeling that if your soul is feeling at all broken, listening to Elizabeth Cotten's guitar on "Freight Train" can help fix it. Her melodic playing sounds so good, you don't even notice how dismal the lyrics are.
16. Going Down the Road Feeling Bad
By John Cephas and Phil Wiggins
From Richmond Blues
This is one of my all-time favorite songs, performed by John Cephas shortly before he passed away in 2009 and accompanied by the equally gifted Phil Wiggins on harmonica. To paraphrase a favorite songwriter of mine, it's hard to go wrong with a sad song sung with a smile.