As we prepare for the opening of the National Museum of African American History and Culture and the
Freedom Sounds
festival, we look back into our archives of African American music from the Smithsonian Folklife Festival and Smithsonian Folkways. From this playlist, Liberty Jazz Band, Freedom Singers, Sweet Honey in the Rock, Len Chandler, McIntosh County Shouters, Josh White, Jr., and Sonia Sanchez will perform at
Freedom Sounds
.
In honor of the opening of NMAAHC, we have curated a playlist of some of our favorite and most influential African American musicians from Smithsonian Folkways. From the booming sound of New Orleans brass bands to the gentle ballads of Len Chandler and the powerful poetry of Sonia Sanchez, African American sounds have powerfully shaped musical expression within the United States and beyond. The depth of African American music making is incredible—jazz, gospel, blues, and folk are all rooted within African American communities.
This playlist includes many artists who will be performing at Freedom Sounds: A Community Celebration, a co-production of the Smithsonian Folklife Festival honoring the museum's grand opening September 23 to 25. The McIntosh County Shouters perform slave shouts in the traditional form of their ancestors, a form which earned them a National Heritage Fellowship. Sweet Honey in the Rock, an a cappella female gospel group, will return to the National Mall after performances at the Folklife Festival. We also celebrate the legacies of civil rights activists Fannie Lou Hamer and Paul Robeson, who both used Christian church hymns as protest songs.
This is only a taste of the breadth of influence and musical creativity of African Americans communities, but hopefully it will leave you wanting more.
1. Freedom Singers – "We Shall Overcome"
From Voices of the Civil Rights Movement: Black American Freedom Songs 1960-1966 (1997)
Founded in 1962 to raise funds on behalf of the Student Nonviolent Coordinating Committee, the Freedom Singers are an enduring example of music's central role as a voice against oppression. This vocal quartet is rooted in worship music of Southern black churches, and in "We Shall Overcome" the sound of gospel is clear. This version led by Fannie Lou Hamer closed a meeting in Mississippi in September 1964.
2. Sweet Honey in the Rock – "Speak to Me Jesus"
From Wade in the Water, Vol. 3: African-American Gospel: The Pioneering Composers (1994)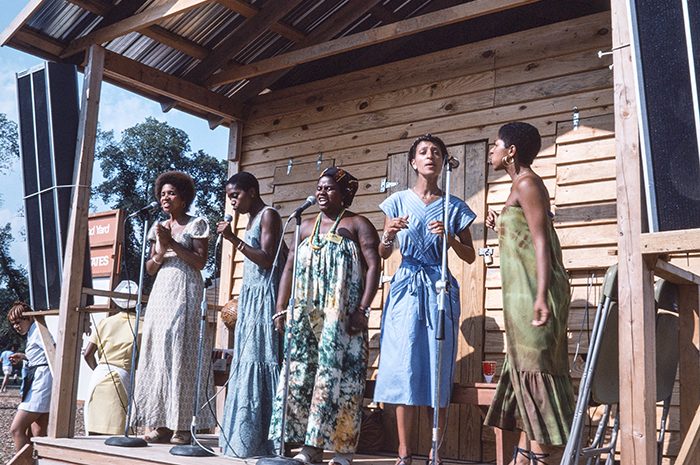 GRAMMY-winning a cappella group Sweet Honey in the Rock was founded by Bernice Johnson Reagon in 1973. Now with a new lineup, they incorporate vocal harmonies into gospel, folk, hip-hop, jazz, and R&B. "Speak to Me Jesus" encapsulates their incredible skill through this powerful, emotional rendition of Reverend William Herbert Brewster's composition.
3. Liberty Jazz Band – "Whoopin' Blues"
From New Orleans Brass Bands: Through the Streets of the City (2015)
Founded in 1985, the Liberty Brass Band innovates New Orleans's brass band jazz to create a crisp sound pallet that retains traditional forms. A favorite in street parades for decades, "Whoopin' Blues" is a rousing twelve-bar blues song that elicits vocal responses from the audience.
4. Fannie Lou Hamer – "This Little Light of Mine"
From Songs My Mother Taught Me (2015)
Fannie Lou Hamer, a name synonymous with the civil rights movement, used her powerful pipes to motivate others during her work as a voting rights activist and civil rights leader. She sang "This Little Light of Mine" at mass meetings and many other events, which imbued the audience with a sense of strength and courage in the face of white supremacists.
5. Ella Jenkins – "Amazing Grace"
From A Life of Song (2011)
The "First Lady of Children's Music" Ella Jenkins is renowned for performing multicultural folk songs primarily for young listeners, and in 2004 she received the GRAMMY Lifetime Achievement Award for that work. Though her songs are frequently in collaboration with children and for children, they are often musically and historically complex tunes that can be enjoyed at any age. "Amazing Grace" is probably the most famous folk hymns—with English origins but now emblematic of African American spiritual.
6. Len Chandler – "Father's Grave"
From Lest We Forget, Vol. 3: Sing For Freedom (1980)
With beginnings in classical music and poetry, Len Chandler incorporates folk songs into orchestral compositions and symphony performances. Inspired by artists such as Josh White and Lead Belly, he became a popular figure during the civil rights movement and continues to play today. He worked closely with Pete Seeger, and Bob Dylan was influenced by his guitar technique. Chandler's incredible musical capacity can be heard in the lyrics and harmonic movements of "Father's Grave," a poignant, beautiful melody which tells the story of a young man caring for his father's gravesite and swearing that his son will never be a slave.
7. John Jackson – "Railroad Bill"
From Rappahannock Blues (2010)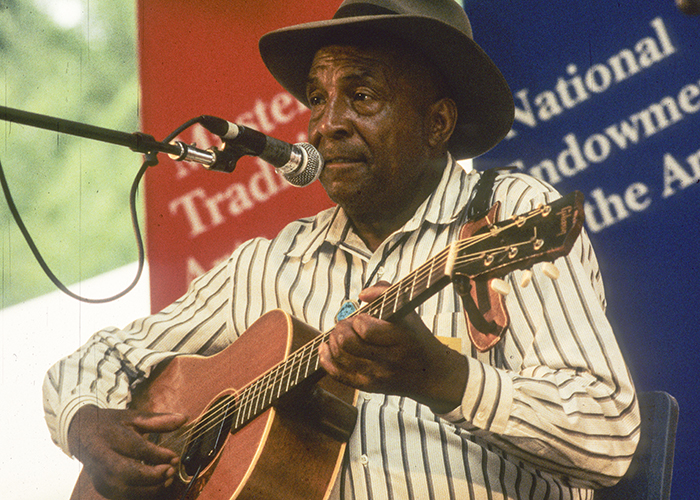 "Songster" John Jackson is one of the best known black Appalachian musicians. In 1986 he was designated a National Heritage Fellow, and he continued to perform until his death in 2002. "Railroad Bill" is a blues ballad based on the exploits of Morris Slater, an Alabama turpentine camp worker who had an infamous career stealing goods from boxcars. After eluding the law for many years, some believed that Slater had supernatural powers. Although he was reportedly killed at a county shop, some never believed that Slater died.
8. Fannie Lou Hamer – "Go Tell It on a Mountain"
From Classic African American Gospel from Smithsonian Folkways (2008)
Fannie Lou Hamer became involved in the civil rights movement when she attempted to register to vote at the age of 45 in 1962. As a result, she soon lost her job and was brutally beaten. This version of "Go Tell It on a Mountain" is unusual because the song was most often sung as a carefully arranged choral spiritual, but as part of a massive civil rights rally in 1963, hers is lively and spontaneous.
9. McIntosh County Shouters – "Adam Picking Up Leaves"
From Folk Masters: Great Performances Recorded Live at the Barns of Wolf Trap (1993)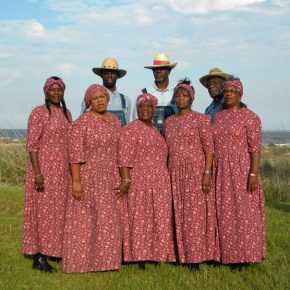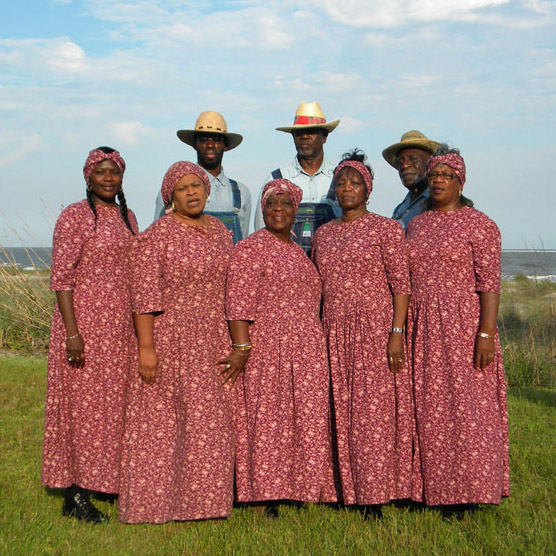 The McIntosh Country Shouters perform the "ring shout" from the Georgia Sea Islands, representing one of the oldest worship and performance traditions of African Americans. Shouts are associated with freedom from slavery, performed in a call-and-response singing style with a dense percussion of hands, feet, and sticks. "Adam Picking Up Leaves" presents vivid images of Adam's fall from grace, realizing his nakedness, and picking up leaves to cover himself.
10. Lead Belly – "Irene (Goodnight Irene)"
From Where Did You Sleep Last Night: Lead Belly Legacy, Vol. 1 (1996)
Huddie "Lead Belly" Ledbetter was one of the most influential musicians of the twentieth century, a towering icon of the blues and the folk music revival. Though he passed away in 1949, his musical genius was a major influence on later musicians, from Bob Dylan to Kurt Cobain. "Irene (Goodnight Irene)" is perhaps his best known song—one of heartache and gambling, suggestions of overdosing on morphine and jumping into a river.
11. Liberty Jazz Band – "Paul Barbarin's Second Line"
From New Orleans Brass Bands: Through the Streets of the City (2015)
Paul Barbarin has remained central to New Orleans's brass bands for sixty years. This refrain is an ode to the "second line" of dancers who follow a band during a celebratory funeral march. While based off the original tune by Barbarin, the Liberty Jazz Band has significantly reformed this piece by including solos. Despite this modernization, the piece still pays tribute to that dance tradition by providing beats for the typical exaggerated, loosely coordinated strutted steps.
12. Lead Belly – "The Midnight Special"
From Shout On: Lead Belly Legacy, Vol. 3 (1998)
"The Midnight Special" is an old American folk song with uncertain origins. By the 1930s it was particularly popular in prisons, recorded by the Library of Congress in numerous penitentiaries. The inmates felt that if the lights of the midnight rain were to shine through the bars, the warden would set you free. Lead Belly's arrangement of the song became the standard and was later covered by Johnny Rivers and Creedence Clearwater Revival.
13. Paul Robeson – "Swing Low, Sweet Chariot"
From The Collector's Paul Robeson (2004)
Civil rights activist, cultural scholar, actor, and singer Paul Robeson was a renaissance man whose voice remains timeless. Born and bred in the heritage of the spiritual, he expanded his repertoire to master Chinese songs, Hebrew chants, and English ballads. In "Swing Low, Sweet Chariot," his voice communicates a deep sadness that is central to this classic spiritual. The fabled chariot and journey home have been interpreted as cloaked references to the Underground Railroad and an escape to freedom.
14. Josh White, Jr. – "Delia's Gone"
From Classic African-American Ballads from Smithsonian Folkways (2006)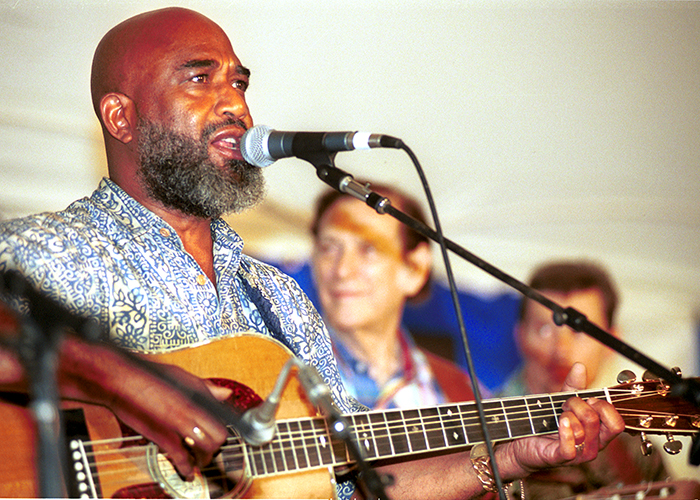 Josh White, Jr., is a folk, blues, and jazz musician and social activist from New York City whose musical career began at age four. As the son of the legendary bluesman Joshua Daniel White, Sr., White was surrounded by the blues from an early age. "Delia's Gone" is based on an incident that took place Christmas Eve 1900, when Moses "Coony" Houston shot and killed Delia Green. Both were fourteen at the time. Coony was arrested, found guilty of murder, sentenced to life in prison, but paroled in 1913.
15. Paul Robeson – "Mt. Zion (On My Journey)"
From The Collector's Paul Robeson (2004)
In his vocal artistry and acting craft, Paul Robeson embodied the quintessentially American cultural traditions of enslaved Africans in the Southern fields. From 1949 to 1958, Robeson fought to survive—artistically and physically—an assault by the U.S. government and mass media due to Communist sympathies. "On My Journey" was central to Robeson's repertoire, and its lyrics—of a traveler to the "promised land," characterized by determination and no regrets—are emblematic of Robeson's life journey.
16. Sonia Sanchez – "A Black/Woman/Speaks"
From A Sun Lady for All Seasons Reads Her Poetry (1971)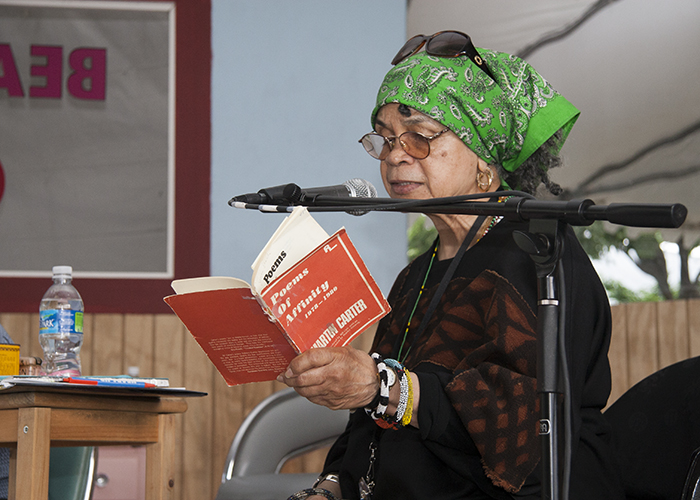 Sonia Sanchez aims to uplift the black community and specifically black women with the power of poetry. Recorded in 1971 after seventeen years of the civil rights movement had rocked the nation and African American communities, Sanchez's album of poetry addresses "a black woman's love for her children, man and nation," read the liner notes. "A Black/Woman/Speaks" speaks to the unbroken spirit of African American women within the emerging black nation.
SarahVictoria Rosemann is a media intern at the Center for Folklife and Cultural Heritage. She earned her master's degree in ethnomusicology from Wesleyan University.