In 1983, San Francisco passed an ordinance requiring candidates running for public office to use their legal names. The reason: a gay man donning a nun's habit, which he refurbished to feature a miniskirt, ran for a seat on the San Francisco board of supervisors under the name Sister Boom Boom, amassing 23,124 votes.
Sister Boom Boom was a member of the Sisters of Perpetual Indulgence. Recognized by their signature black veils and white-painted faces, the Sisters of Perpetual Indulgence are an international nonprofit order of queer nuns who recently found themselves back in the spotlight of institutional objection, this time fueled by the most recent wave of anti-queer and -trans rhetoric facing the United States.
When the Los Angeles Dodgers announced that the baseball team would honor the Sisters with the Community Hero Award at their 2023 Pride Night this June, conservative voices spoke out. A senator's letter to Major League Baseball commissioner Rob Manfred marked the sisters as "a group of gay and transgender drag performers that intentionally mocks and degrades Christians." On May 17, it was announced that the Sister had been uninvited. The Sisters and their supporters publicly, loudly, disagreed with the decision.
Per the organization's official history, the Sisters were initially established on Easter weekend of 1979, when three mavericking gay men—Sister Vicious PHB, Sister Missionary Position, and Baruch Golden—donned full, traditional habits through a San Francisco nude beach, carrying a prop machine gun for protection.
This act occurred during a period when many within the LGBTQ+ community felt quashed by the assimilative politics guiding the gay rights movement. At about the same time, Harry Hay was ousted from the Mattachine Society, the early national gay rights organization he founded, due to his affiliation with the Communist party. Along with Don Kilhefner, he went on to start the Radical Faeries, an anti-establishment and community-focused network which challenged the status quo through a secular spiritual lens. 
Sister Mary Media, an original member of the Sisters of Perpetual Indulgence and member of the Radical Faeries, explained to me in a recent interview that spirituality factored into these conversations due to the way queer people navigate life. "His point is that queer people have a consciousness distinct from that of hetero people. So that filter affects the whole way we see the world."
Eager to explore these ideas, the Radical Faeries held the Spiritual Conference for Radical Fairies in the fall of 1979. Attendees, including Sister Mary, gathered in Arizona.
"We were celebrating our difference," Sister Mary said. "We were celebrating what is unique about being queer. It was kind of a mind-blowing experience for so many of us. Then, when we went back to San Francisco, it was like, 'Wow, what do we do with this?'"
Inspired by the three who wore nuns' habits on the nude beach, conversations culminated in the founding of the Sisters of Perpetual Indulgence, a queer order of nuns that would be used as a vehicle to explore queer consciousness. According to Sister Mary, the initial order saw four founders and twelve members.
One of those founders was Sister Hysterectoria. He explained that he was only interested in being involved if the Sisters were a genuine spiritual order. "I told everyone I was not going to be in a group of just a few people," he said. "I wanted it to be a legitimate order."
Today, the order is well known for their community service, but this was not always a central focus. The Sisters organized their first fundraiser, a simple bingo night in 1980, when thousands of gay Cuban refugees found themselves on U.S. shores. Eventually, service grew to become a central aspect of the order.
Soon after, the HIV/AIDS crisis markedly impacted the Sisters, along with much of the queer community. Caring for victims became a central duty for the Sisters. In fact, their website claims they organized the very first fundraiser benefiting an AIDS-related organization. In response to the crisis, the Sisters created an educational pamphlet, designed by Sister Mary, titled "Play Fair!" It used humor to educate audiences on safe-sex practices, as opposed to the common approach at the time of discouraging sex altogether.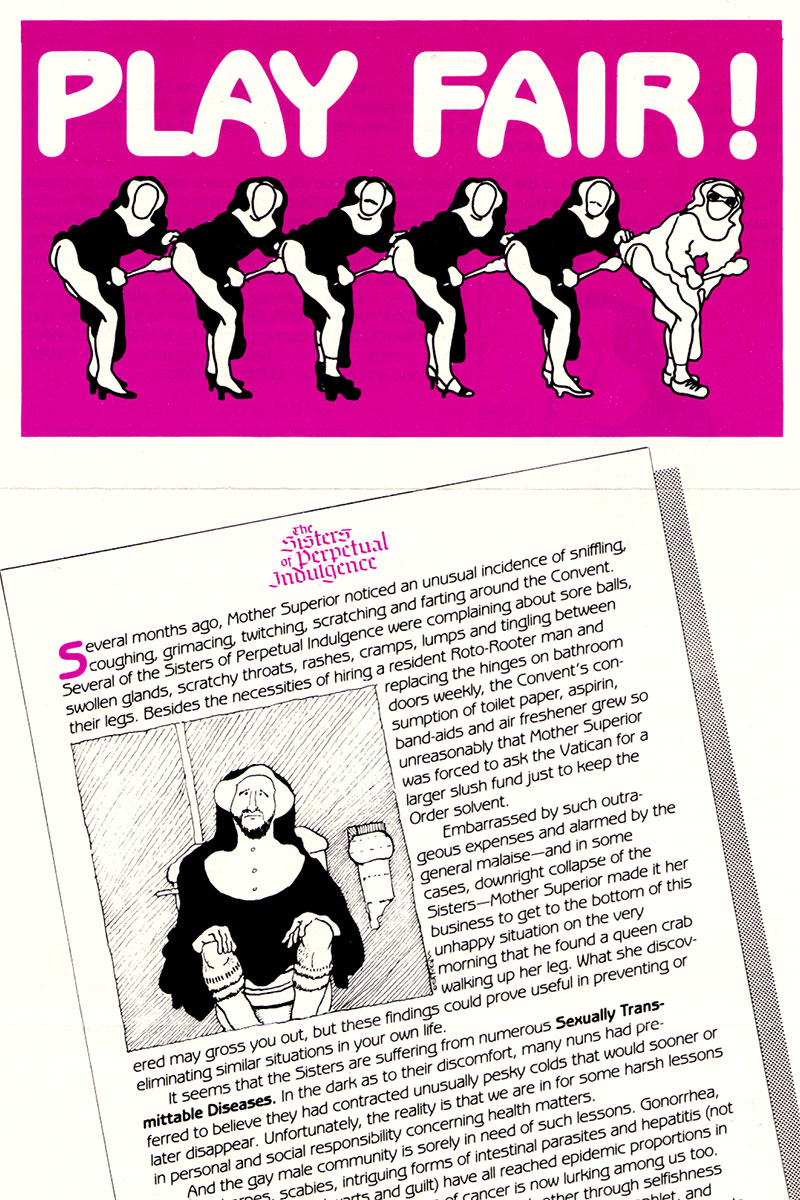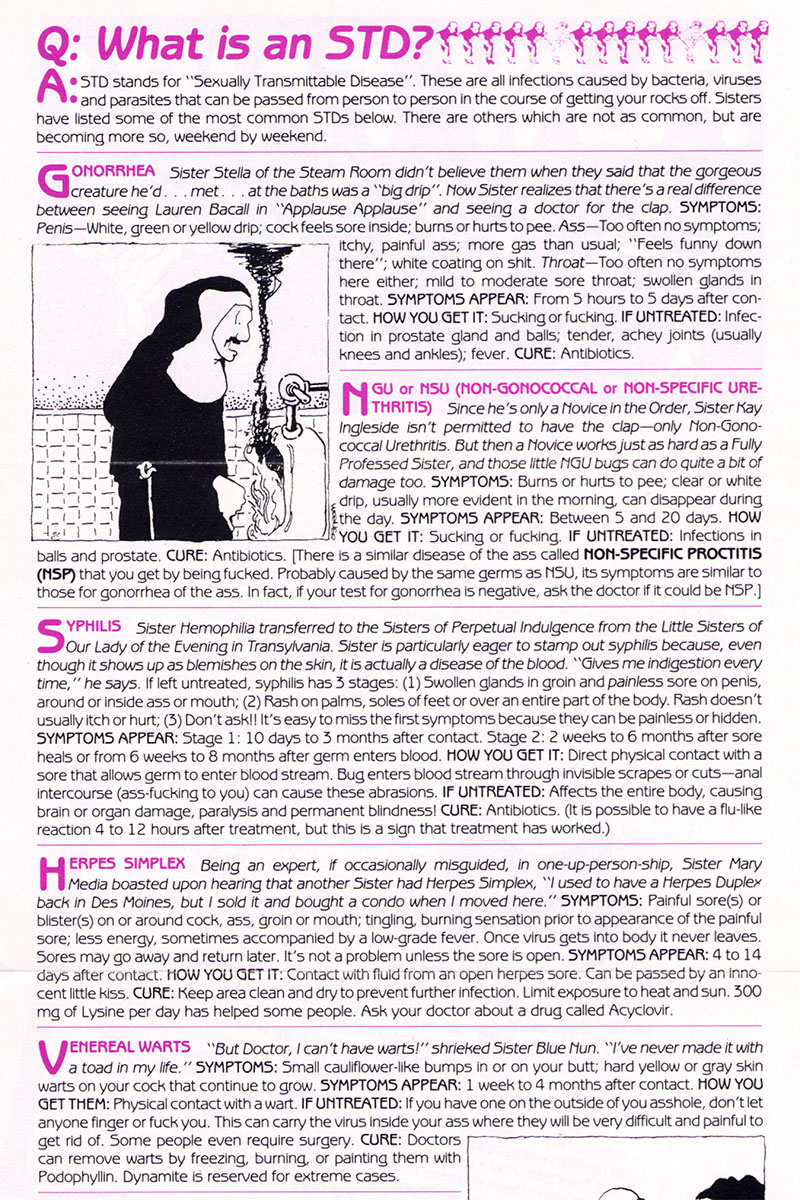 In the mid-1980s, Sister Mary and many others left the organization, though Sister Mary returned in 2009. "Many of us were busy taking care of our friends, and I had a business at that time, and I needed to spend time working on that," Sister Mary said. "The Sisters was too much of a full-time job."
Some members of the organization, referred to as guards, lend their efforts to security, as well as comic relief. One guard, aptly named Guard HOOOO?!, which stands for Holy Order's Organizer of Ontology?! (a play on metaphysical studies) adds context: "We do a lot of work in the community that originally would have been done by a religious order. During the AIDS crisis, so many people were being turned away by their churches, turned away by their families. They could not be open to anybody about their spirituality because they were gay. And they were excommunicated."
According to Guard HOOOO?!, the role of the guards has evolved over time. Today, Guard HOOOO?! sees himself as a guard of the history and memory of the order. Recently, he spearheaded an effort, funded by a Mellon Foundation Grant, to digitize the organization's materials.
The guards are merely one example of the organization's growth over time. One of the most prominent changes is the process of becoming a Sister. "Every kind of religious institution gets more baroque as it goes along," Sister Mary stated. "The Sisters are no exception."
Today, there are four phases in the process: Aspirant/Volunteer, Postulant, Novice Sister, and Fully Professed Sister. An Aspirant or Volunteer is one who aspires to become a Sister. In this stage, there is no requirement other than indicating interest. Once a prospective Sister is approved to become a Postulant, they must meet a dedicated set of guidelines and minimums before being voted to become a Novice Sister. A Novice Sister is not fully professed, and this is indicated in their appearance. A Novice Sister will wear a pure white veil and is not yet allowed to speak for the order. Finally, once requirements are met, a Novice Sister will petition for a vote to elevate to Fully Professed Sister, finally donning the iconic black veil. Guards, in their role, do not wear a veil.
"As much as people may think that we are poking fun or mocking religion, we are a spiritual Order," said Guard HOOOO?!, speaking on the stringency of the process. "And you're a member for life, so it's not something we take lightly."
One way that the Sisters upheld the spiritual aspect of the order is through the act of confession. "You may have heard that Marco Rubio said that we flaunt and mock religion because we tell people to go forth and sin some more after they confess to us," Guard HOOOO?! mentioned. "I like to say that when people come to me to give confession, I tell them, 'Your sins are forgiven. Go forth and sin some more,' because that's the reality of the human condition. People come to us, and they feel the need to unburden themselves, and to be validated, and to be told that they're not wrong. We absolve them of that and tell them so.
"Historically, there was a lot of anti-gay rhetoric coming from religious communities," he continued. "It was a question of whether to 'accept' gay people, or whether gay people should reject their own identities in order to conform to the religious vision of what a good person looks like. So we presented ourselves as religious figures. We were poking at the hostility of religious institutions toward gay people and saying, 'No, we did this. We can be religious too.'"
For Sister Mary, this partially satirical act became a spiritual experience by embracing her queerness in a religious context. "It was putting on drag and using it to explore a different mode of consciousness and of spirituality," she said.
Sister Tilda NextTime, the San Francisco Mistress of Propaganda, was drawn to the order because of the spirituality of being proudly queer in a world that has not embraced such. "I've always been fascinated by this whole holiness about being queer," she said. "Our religion is basically just making people realize that you are important. You are loved and you are necessary to this world. And you should flaunt this in front of everyone."
In 1997, Sister Tilda was one of 2,000 attendees at Sao Paolo, Brazil's first Pride parade, years before it became the largest in the world. As she partook in the festivities, she came across a pamphlet highlighting queer organizations around the world, and the Sisters of Perpetual Indulgence were prominently featured. She was intrigued. Years later, Sister Tilda moved to San Francisco to get married. Coincidentally, that was the location of the Sisters of Perpetual Indulgence "mother house."
"I fell in love with the whole mission because I am an immigrant, Latino, queer person," she told me. "I thought that that would be my way to not only express myself but also to provide support and healing to this community that I'm part of."
The Sisters of Perpetual Indulgence have established houses across the United States and many countries. There are four in Texas, including one in the state's capital of Austin. This house is one of many threatened by a record-breaking wave of anti-trans laws, which notably includes bills seeking to prevent drag queens from performing in front of children.
Sister Serena Severe is the abbess of the Austin house, a relatively small house within the organization. Their size leads them to engage in less planning and more participation within the community where they have raised money for many organizations such as the Transgender Education Network of Texas and Out Youth.
Like any member of the organization, Sister Serena leads her own ministry, pursuing community service as she sees fit. She does so through performance, as she was a drag queen before joining the Sisters. She became a Sister as she was attracted to what she calls the organization's "intersection of nuns, clowning, and drag."
Sister Serena reads at drag story hours, a nonprofit-sponsored event where drag queens read educational materials to children. Many states, such as Tennessee and Florida, have voted to ban drag in front of children, threatening organizations such as Drag Story Hour.
The Sisters of Perpetual Indulgence have responded to the widespread anti-trans legislation. On April 9, the San Francisco house co-organized a march in solidarity with states affected by anti-LGBTQ bills. Thousands of people marched beside the Sisters in solidarity with the people impacted by these bills.
"They just want to eradicate us," Sister Tilda said. "And we're not going anywhere. We need to show the new generation that they need to fight, and they need to be proud of themselves. Here in San Francisco, we are joining street protests. We are talking to the media. We are using social media to educate people and to incentivize people to vote."
The recent action by the Dodgers was just one example of institutions succumbing to anti-queer rhetoric. Many other organizations—L.A. Pride, ACLU of Southern California, L.A. LGBT Center—refused to tolerate this action from the team. They stood in solidarity with the L.A. house Sisters and threatened to boycott the event if the Sisters were not invited back.
On May 22, the Dodgers announced that the Sisters of Perpetual Indulgence were reinvited to their Pride Night on June 16.
The way the L.A. house handled the situation inspired Sister Serena: "The Sisters did an amazing job of holding space—not only for themselves and their supporters but holding space for the Dodgers to come back to them."
Adrienne Hunter is a former intern at the Center for Folklife and Cultural Heritage. Born and raised in Texas, with a background in journalism and queer studies, she has a specific interest in documenting Southern and rural queer stories.