One name you're sure to come across in a survey of classical Azerbaijani music in our time is that of Alim Qasimov. The beloved musician, who often performs alongside his daughter, Fargana, is best known for his innovative treatment of mugham, a genre of melodic modes and motifs that form the basis of the nation's classical music repertoire.
Music in Azerbaijan, where the population is predominantly Muslim, reflects a history of exchange between Turkic and Iranian peoples. It's just that confluence that Alim and Fargana bring listeners with Spiritual Music of Azerbaijan, the sixth volume in the Smithsonian Folkways series Music of Central Asia and a rich collection of poetic verse, nuanced improvisation, and thoughtful reflection.
In the album's poetic verse, Alim and Fargana explore themes of the power of love and the pain of separation. Drawing from traditional singer-songwriters or ashiqs, whose texts often evoke these themes, the album parallels other Azeri works, such as Elshan Mansurov's "Dilkash" from the Smithsonian Folkways album The Silk Road: A Musical Caravan. In the liner notes, Yo-Yo Ma calls the soft, nostalgic mugham "particularly well suited to the expression of romantic passion."
In Uzbekistan and Tajikistan, traditional composers or bastakors draw on similar themes of unrequited love and the pain of separation from a loved one, wherein the beloved may allude to "the invisible presence of the divine." The sadness conveyed in such verse encompasses a broad range of emotional subtleties, distinguishing "the depths of despair from the sweet sadness of a lover's longing," according to Ella Zonis Mahler who produced the 1991 Folkways album Classical Music of Iran: The Dastgah Systems.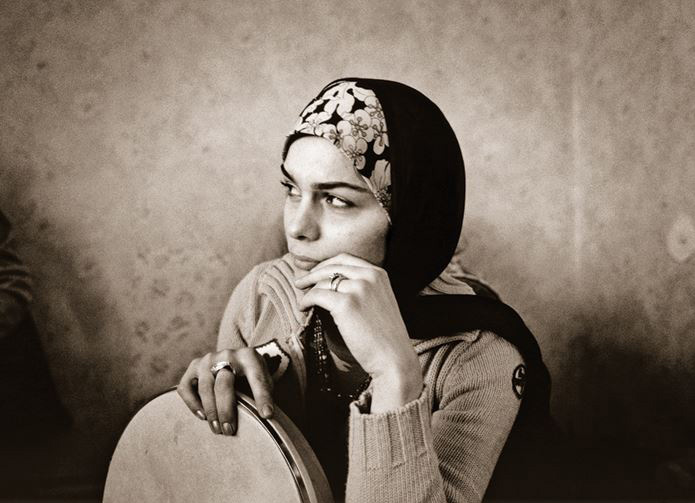 Alim and Fargana enliven the album's rich poetic verse with skillful improvisation within the mugham's modes. The father-daughter duo often continue each other's lines, at times overlapping, but always maintaining a "disciplined balance between memorization and extemporization," producer Theodore Levin writes.
In "Choban Bayati," a maqam from The Silk Road, Malik Mansurov performs a similar improvisational, or pishro, piece, by turns following the rhythm and then moving away from it. On the same compilation, musician Edalat Nasibov echoes this penchant for spontaneity, repeating the same melody dozens of times, each with new inspiration and effect.
Alim and Fargana owe much of their improvisational skills to their artistic passion. "To be a musician, there has to be a fire burning in you," explained Alim in the album's liner notes. This zeal extends to the younger Qasimov, who insists that the music has become "a part of everyday life."
For Farhod Davletov, an Uzbek singer and instrumentalist featured on In the Shrine of the Heart: Popular Classics from Bukhara and Beyond, studying the poetry of traditional maqams is a similarly devotional practice. "It will nourish your heart, and give you peace and confidence," he wrote in the liner notes. "It's not about religion, but about belief."
It's just this passion that imbues Alim and Fargana's work with its transfixing appeal. As Alim put it, "there isn't any point in performing mugham without hal [soul]."
In Spiritual Music of Azerbaijan, Alim and Fargana illuminate classical poetry, improvise seamlessly, and make the case for a life of reflection. The album, at once classical and contemporary, underlines the rich history of classical music in Azerbaijan.
Mugham: Spiritual Music from Azerbaijan from Smithsonian Folkways
This piece was written in collaboration with the Smithsonian Arthur M. Sackler Gallery's exhibition The Art of the Qur'an: Treasures from the Museum of Turkish and Islamic Arts, on view through February 20, 2017.