These two hand-formed coffee pots, known as dallah (دلة), were gifts from the Omani government during the 2005 Folklife Festival program on Oman. Only a few years after the events of September 11, in the context of what curator Richard Kennedy described as progressive "disintegration of understanding of Muslim culture," the program was initiated by the incoming American ambassador to Oman. It was the first Festival program to focus on a Muslim country.
These dallah, as Kennedy noted, represent the strong tradition of Omani hospitality. Serving coffee from this type of pot is a crucial element of welcoming guests in Oman specifically and throughout the Arabian Peninsula and Levant. Known as qahwa (قهوة), Omani coffee is very different from what you might find in a Starbucks cup. The green coffee beans are lightly roasted in a pan over an open fire and ground with a mortar and pestle into a fine powder. The coffee powder is then mixed with boiling water in the dallah, and cardamom, rosewater, and saffron are added (and sometimes cloves and cinnamon, depending on the region).
The host pours the brewed coffee from the dallah into small handleless cups called finjan. The resulting beverage is tea-colored, served along with dates and the sweet confection known as halwa. No guest should decline qahwa when offered, the cup must only be a quarter full, and, once finished, the receiver should shake their cup gently as a sign for more.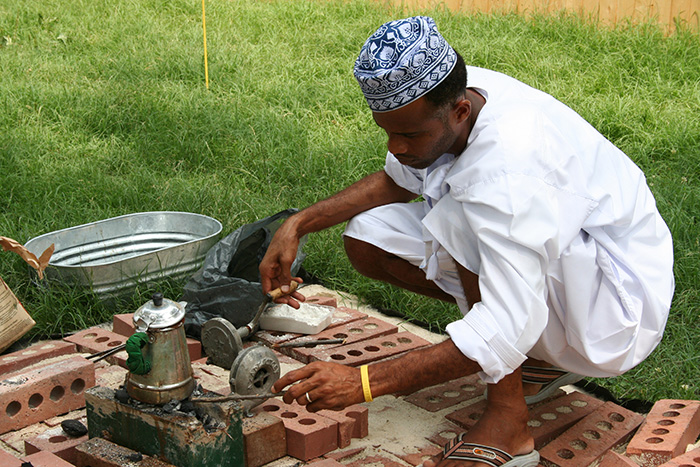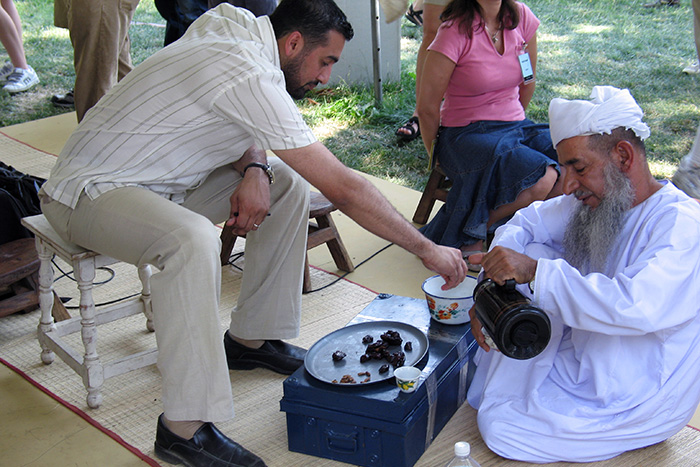 These pots are also representative of the rich heritage of Omani metalwork and, more generally, traditional crafts. Shipbuilding, weaving, pottery making, and metalsmithing with copper, silver, and gold have always played an important role in the urban, rural, and pastoral economy of Oman, with skills handed down from one generation to the next. Some traditions date back as far as the third millennium BCE, and the government now works to preserve and encourage craftsmanship—as reflected in Oman's participation in the Festival.
Today the souks (marketplaces) of the oasis towns of the interior, where silversmiths, coppersmiths, and others typically have permanent workshops, are safe havens for maintaining these highly specialized traditions and creating webs of exchange among craftspeople. The city of Nizwa is specifically known for its copperwork and production of dallah. Port capitals like Muscat and Sur continue to function as gateways for new ideas, materials, and peoples, which have not only enriched the craft heritage of coastal communities but also filtered inland via overland trade routes. The resulting craft culture is a captivating synthesis of Arab, Asian, and East African influences, creating a whole that is uniquely Omani.
Thus, these two coffee pots, these dallah, are reflective of several things: Omani craft heritage, Oman's culture of hospitality, and the spirit of friendship, welcome, and collaboration that this particular program embodied—and that the Festival represents each year.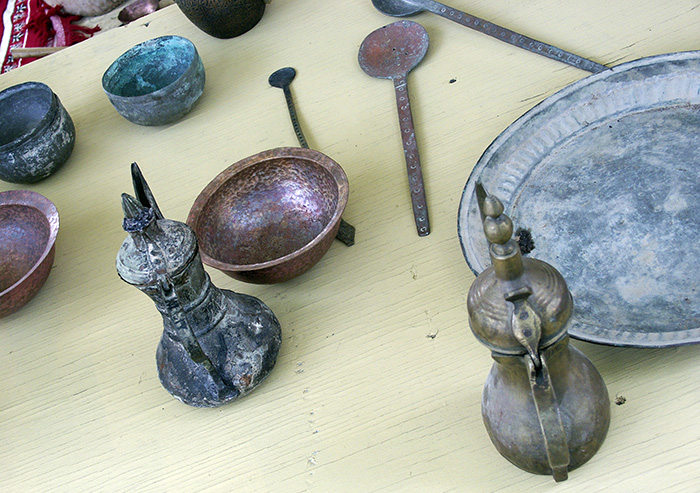 Alison Ball is a Center for Folklife and Cultural Heritage extern conducting research on the material culture collection from the Smithsonian Folklife Festival in preparation for the Festival's 50th anniversary in 2017. She is a history major at Carleton College, focusing on gender and colonialism in North Africa and the Middle East and minoring in Arabic.
This piece was written in collaboration with the Smithsonian Arthur M. Sackler Gallery's exhibition The Art of the Qur'an: Treasures from the Museum of Turkish and Islamic Arts, on view through February 20, 2017.