You would never know from his bashful laugh, but Shide Nyima is one of the most recognizable faces on Tibetan television. The man who can't walk down the streets of Xining, the capital of Qinghai Province, without strangers coming up to him and asking, "Have you by chance seen a dog leading a horse and a guy wearing a fox fur hat?" has had time to adjust to the way his public identity blurs into the iconic roles he plays. The attention doesn't faze him anymore, but he is still amused by the fame.
On a trip to New York City, two fans from Shide Nyima's native Amdo (a Tibetan region spread over parts of Qinghai, Gansu, and Sichuan provinces) showed up outside his hotel and begged him to join them for drinks. His presence in the city so far from home was a surreal surprise. He laughed out loud at their enthusiasm, grasped each outstretched hand with both of his own and thanked them.
ཞི་བདེ་ཉི་མའི་ངོ་སྤྲོད་མདོར་བསྡུས།
ཞི་བདེ་ཉི་མའི་གློག་བརྙན་འཕྲིན་བརྩམས་ཆོས་ཁྲོད་ཀྱི་དམངས་སྲོལ་རིག་གནས།
བཅར་འདྲི། བརྙན་གཟུགས་ཁྲོད་ཀྱི་སེམས་ཚོར།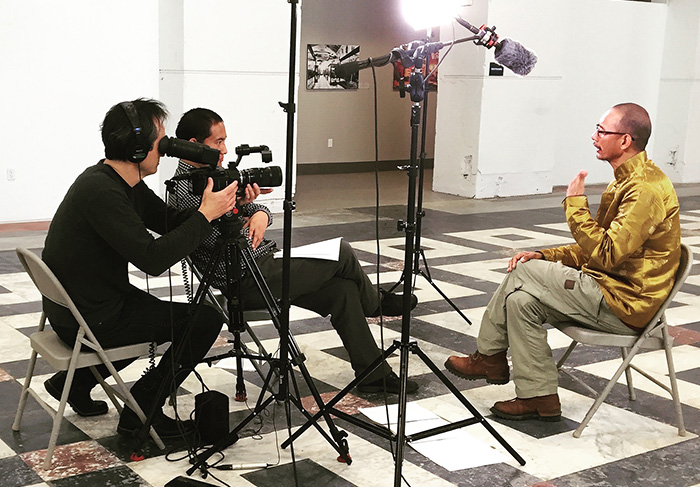 Shide Nyima came to the United States as the first Smithsonian Tibetan Artist in Residence (STAR), promoting his latest project, Tsezung Lhamo, a documentary about the life of a young shepherdess from his hometown. But those men on the street were more excited about meeting the real-life Pig Head Diviner, legendary rascal and seeker of the aforementioned dog from the 2006 TV mini-series of the same name—Mo sTon Phag mGo in Tibetan. This was the first original Tibetan-language mini-series, and only the second original Tibetan television drama (the first, also created by Shide Nyima, was the 2004 made-for-TV movie The Coral Necklace).
In the decade that has passed, no doubt most of his fans have seen his other work, like the popular skits he performs for Qinghai Television Station's annual live broadcast Losar Special, but Pig Head Diviner continues to have a special place in people's hearts. At six episodes, it was an instant hit throughout the eastern Tibetan regions of Amdo and Khams. The series gets replayed at least once a year, usually during Losar (Tibetan New Year) and is especially beloved by kids and teenagers, for whom the catchy one-liners and exaggerated physical comedy of Shide Nyima's performance are tailor-made.
"This television program is basically a folk tale," says Shide Nyima, who was personally involved in almost every step of the production, from writing the script to final editing.
The show's titular character, named for the dried-out pig's head he pretends to use as a sort of crystal ball, dates back to an ancient Tibetan equivalent of Grimm's Fairy Tales, the Tale of a Golden Corpse (མི་རོ་རྩེ་སྒྲུང་། Mi Ro rTse sGrung). These stories about magic and adventure have been told at bedtime and around campfires for centuries. They have been published in books. It's safe to say that a majority of Mo sTon Phag mGo's audience was all too familiar with the Diviner and his tricks. Especially for his youngest audience, much of the magic of Pig Head Diviner came from the transcendent experience of seeing a household name come to life.
Shide Nyima performed the role so perfectly that Pig Head Diviner has become a part of his life. Strangers and friends alike ask him to predict the future or rib him about some of the more ridiculous lines from the series as if these were things that Shide Nyima himself believes or does. He takes the attention in stride, plays along with the jokes—even embraces the picture of himself as a self-defeating trickster.
"He is a coward who stirs up a lot of confusion about what is the truth and what is lies," the man who has come to embody the cowardly liar reflects. He teaches us how not to be. "Many people regard him as a pandita, a great teacher with considerable spiritual attainments."
Folk tales and folk culture are important, Shide Nyima feels: they are a way to pass on life lessons, of course. They also provide important information about a unique way of life and a worldview that has helped Tibetans survive and thrive for centuries. For this reason, he makes sure to ground all his on-screen portrayals in backgrounds filled with culturally specific details.
"The comedic undertakings of [Pig Head Diviner] and the funny stories surrounding him unfold in the midst of numerous Tibetan folk customs, funerals and weddings, farming and herding, religious ceremonies, prayers, and, of course, divinations," he explains.
The first generation of young people who watched the original broadcast in 2006 are now adults. Unlike their parents, grandparents, and older siblings, they have grown up hearing Tibetan stories and seeing Tibetan faces—seeing themselves—on TV. Prior to the early 2000s when Shide Nyima first began producing original content, Tibetan-language television programming consisted almost entirely of news and dubbed movies.
In fact, Shide Nyima got his start in television as a voice actor for translated programs. Of course, translation is great, he explains, but there will always be something missing from imported media: there are "insights that a Tibetan audience can't get from movies translated into Tibetan from other languages and cultures. Only movies produced and performed by our own people, made in our own language can teach us these lessons." Shide Nyima has made it his life's mission to make sure that those movies get made.
In all his work, Shide Nyima never forgets where he comes from: the remote pastoral community of Mang rDzong County in northern Amdo, the most easterly of the three Tibetan regions. As Tsezung Lhamo's beautiful, expansive cinematography attests, Mang rDzong is dry, mountainous, and empty. It is also very beautiful. He has not lived there since the 1980s, when he first started working. He's a city dweller these days, yet Mang rDzong, especially its winters, has never strayed from his heart. Rural characters and themes permeate his work, whether it be poems and song lyrics about family and nature, or movies that capture the dilemmas and promises of life at the crossroads of tradition and modernity.
Ordinary people—the choices they make and the way they handle the consequences of those choices—fascinate him. After following the shepherdess with a camera crew for a few weeks, Shide Nyima sat down with her and worked out things that she wanted to have said or shown in this film about her life. She wrote the voiceover narration, which punctuates long, silent moments of her unbraiding her waist-long hair and handfeeding her sheep, to explain to us that not so long ago she was a top-performing student with dreams of attending college. Now, when she's not spending weeks or months herding alone in the mountains, she is an in-demand performer, the community's best singer of traditional wedding songs.
This kind of storytelling, whether through feature films or online videos, Shide Nyima believes is a natural extension of the ways in which Tibetans have always passed on their values and lessons about life. Thanks in part to his pioneering work—and the irresistible charisma of his wily alter ego—Tibetan folktales will continue to delight and educate future generations through the magic of big and small screens.
***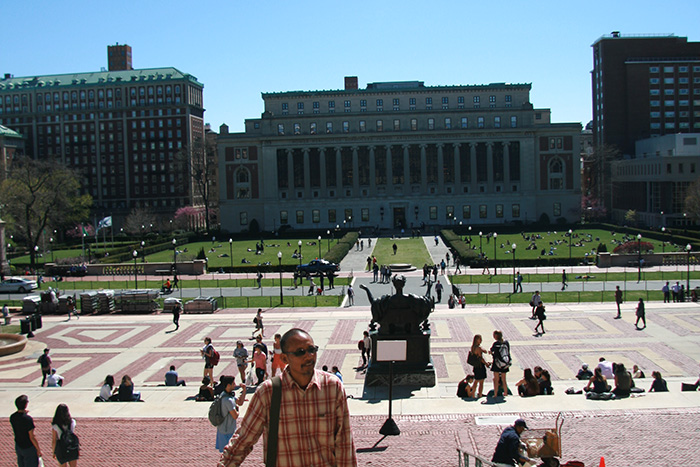 Shide Nyima enjoyed New York. It was his first trip to the United States. He tried Italian pasta for the first time—hold the parmesan! He found he has a taste for coffee and switched from tea for the duration of the trip. He also liked D.C., especially the monuments and museums. America is a mixture of old and new. He liked this. Every city is different. He even approved of New Yorkers' policy of dumping garbage bags directly on the sidewalk: it's ultimately cleaner that way, he explained. Once the trash is collected, there are no dumpsters to deal with.
That's what the writer, director, poet, and award-winning actor thinks of this country—but what about Pig Head Diviner? Apparently, first and foremost, he would be on the lookout for chances to scam people.
"Of course, I unfortunately don't have any psychic abilities," he says. "Well, maybe if I knew how to read people's fortunes and had brought a pig's head with me to the U.S., I could pull it off!"
Zoe Tribur is a research fellow at the Center for Folklife and Cultural Heritage working on the Smithsonian Tibetan Artists in Residence program. She is earning a Ph.D. in linguistics with a focus on Tibeto-Burman languages from the University of Oregon.